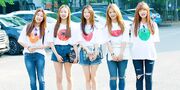 Every member of CLC has a fruit to represent her personality. The girls can often be seen wearing clothing with their fruit symbol on it.
Seunghee's fruit is the green apple. She refers to it as the 'innocent apple,' because she considers herself to be the innocent one in the team.
Seungyeon's fruit is the orange, because she is cheerful and lively, similar to how refreshing the orange is.
Yujin's fruit is the strawberry because she is both refreshing and sweet, like a strawberry.
Yeeun's fruit is a tomato, since the tomato is a unique mix of both a fruit and a vegetable, just like how Yeeun is unique and promises to show more than just one side to herself.
Sorn's fruit is the watermelon. This is because Sorn is from Thailand and she says that Watermelon is commonly enjoyed in Thailand.
Elkie's fruit is the cherry, although it was never properly established why that particular fruit was chosen.
Eunbin's fruit is the lemon. A short list of fruits for Eunbin were voted on by CLC fans and Eunbin chose a fruit from the selection during a V-Live, deciding on the lemon. Eunbin stated during the V-Live video that she was nicknamed "Lemon" by a penpal in second grade. With this in mind and the fact that the majority of fans wanted Eunbin to have the lemon, the CLC members all agreed that the lemon suited Eunbin the most.
The girls tend to wear matching clothing with their fruit symbols printed on them during events such as showcases , busking, arriving at music shows, fansigns, radio appearences, dance practices and music videos.